One of the most unique underwater experiences: swimming alongside the most gigantic fish in the world, the whale shark
Baja California Sur is undoubtedly one of the best destinations to know an important part of the marine diversity that this place offers; the name of "Aquarium of the World" is something that you can only understand once you enter the water with a snorkel mask or if you have more experience all the equipment to dive deep.

In Los Cabos, winter is the ideal season to enjoy one of the leading exponents of the marine diversity of the area: We are referring to one of our most adorable neighbors: The humpback whales. The perfect season to take a Whale Watching Tour, if you already know this magnificent marine experience, you know what we are talking about, and if you haven't experienced it yet, don't miss your chance! take the opportunity of your stay in Los Cabos and enjoy a Whale Watching Tour.
For you, who have already done that and now is looking to continue expanding your list of things you've done in the Aquarium of the World, it's time for you to get to know another famous tour in La Baja, Whale Shark Diving Tour.
Swimming alongside a whale shark might sound intimidating, but you don't have to worry a bit; this colossal shark is very docile and often allows people to swim alongside it.
This shark feeds only on plankton, krill, and other tiny organisms. Its feeding process is by filtration; it opens its huge mouth and sucks in whatever is nearby, expelling the water through its gills.

Living these incredible experiences is something you won't want to miss when visiting Cabo; contact the concierge, who will arrange everything to organize your excursion; that's all you need, and we'll make sure you don't miss a thing on your next marine adventure ..... Although you may want to bring your camera with you.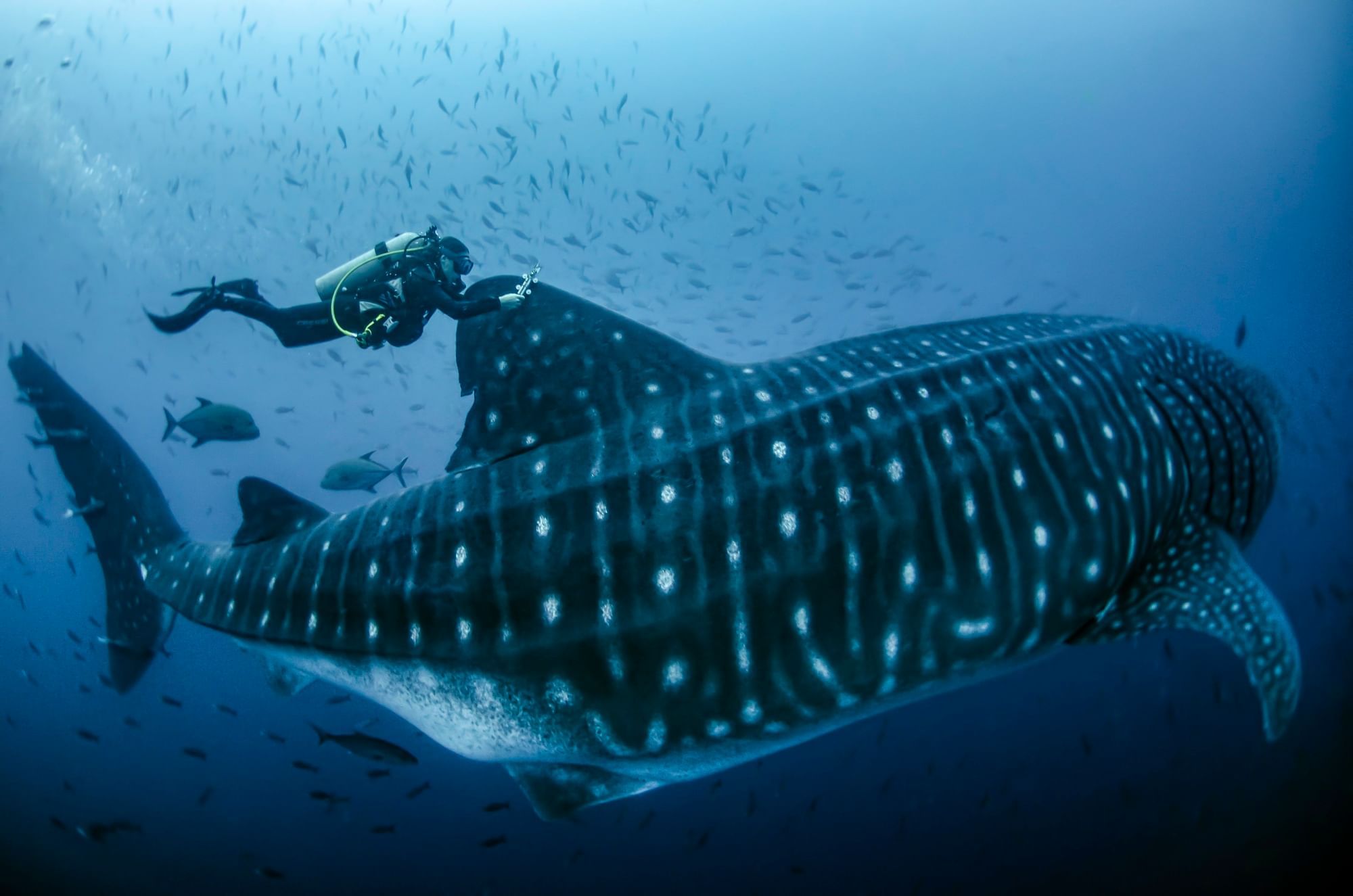 When is it possible to do it?
While it is possible to do this tour all year round, the winter months from October to April are the best time to experience this gentle giant of the sea. Don't think twice; sign up to enjoy the local marine diversity only Los Cabos can offer you.
Where to do it?
Two hours away from Marquis Los Cabos is La Paz, where the Whale Sharks are most visible around winter. A trip to La Paz can be a day trip; beaches around La Paz are also beautiful and cant be missed!
Continue exploring La Baja!